Many parents find themselves wondering how to engage their children in learning opportunities outside of school. Tablets, video games and other devices offer ample distractions for your student's downtime, but what educational opportunities do these activities offer? Students deserve a proper break from schooling during the weekends and on breaks, but that doesn't mean that their activities outside school should hold no educational value.Luckily, Arizona has ample opportunities for you to engage your child with learning activities. These educational activities will delight and engage the whole family and provide exciting opportunities for learning outside of the classroom.
How Can I Expand My Child's Learning Outside of School?
Schooling focuses on the essential skills children will need to succeed in the world. Subjects like math, science, vocabulary, reading, history and English build a student's aptitude for memorization, application, critical thinking and analysis. As students progress through school, the foundational skills they learn build on each other — for example, the basic math calculations of addition, multiplication and division become essential in later subjects like algebra, geometry and calculus. When students graduate high school, they demonstrate readiness for the workforce or continuing education, like college or trade school. But, reserving learning only for the classroom may leave students unprepared for the unique needs and challenges of the world today. Studies prove that parental engagement in education is essential in improving student success and achievement.Schools serve an essential function in our society by preparing children to become productive, engaged citizens of the world. However, parents play a pivotal role in instilling a love of learning in their children. Through expanding your child's learning outside of school, you can show your student that there are educational opportunities all around them — and that they should seize every opportunity to learn that they can.
Benefits of Educational Activities Outside School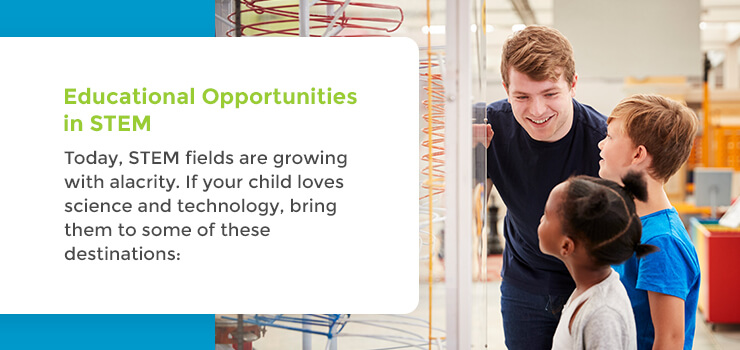 Educational Opportunities in STEM
Today, STEM fields are growing with alacrity. If your child loves science and technology, bring them to some of these destinations:
1. Arizona Science Center — Pheonix
With interactive exhibits, this museum in the heart of Pheonix will be sure to delight your child. The Arizona Science Center holds a Planetarium, Giant Screen Film theater and interactive exhibits exploring nature, finance, electricity and biology. The museum also hosts a wide range of rotating exhibits that delight and inspire.
2. Lowell Observatory — Flagstaff
For future space explorers, the Lowell Observatory can reveal the wonders and marvels of our galaxy and worlds beyond our own. Get a look at some of the telescopes responsible for critical astronomical discoveries. The Pluto Discovery Center holds the very telescope that Clyde Tombaugh used in the first-ever sighting of the object scientists later named Pluto.
3. Desert Botanical Garden — Phoenix
Take a walk through one of the most beautiful museums you'll ever encounter — the Desert Botanical Garden in Pheonix. Explore the wonders of the Sonoran Desert by walking through trails and exhibits about the unique plant life that calls the desert it's home. The trails combine to be about a mile and a half in length, so you're sure to get plenty of sightseeing on your journey.
Educational Opportunities in the Arts
If you're looking for educational activities that will excite your child's interest in the arts, take them to some of these amazing locations in Arizona:
1. Sedona Arts Center — Sedona
Offering exhibitions, private lessons and worships, the Sedona Arts Center has a myriad of activities to inspire your child's creativity. The center offers workshops in various mediums, like ceramics and painting, as well as private lessons and mentoring for students with a serious interest in pursuing the arts. You can also explore the gallery with your child to discover the work of local and regional artists.
2. Pheonix Theatre — Pheonix
Whether your child has an eye for the stage or not, taking them to a theatre performance at the Pheonix Theatre can be an enriching and engaging educational experience. See classics like Singin' in the Rain, The Color Purple and Something Rotten! while experiencing the magic of theater. If your child is a future star, sign them up for summer theater camp to help them hone their skills.
3. LEGOLAND Discovery Center — Tempe
Your child will have plenty of opportunities to flex their creative muscles at the LEGOLAND Discovery Center in Tempe. Your child can attend a workshop with the center's Master Model Builder to gain new skills in building Legos and exploring new techniques. They also have a store so your child can take a kit home to continue the fun after their visit.
Educational Opportunities in History
Situated in the old Wild West, Arizona offers a rich history — explore this legacy at these fascinating historical experiences:
1. Arizona Heritage Center — Tempe
The Arizona Heritage Center hosts a variety of exhibits exploring the history of Arizona and national movements and moments. Get a glimpse into the life of the indigenous Hopi and Navaho nations, or explore various exhibits on topics like suffrage and historical fashion.
2. Arizona Museum of Natural History — Mesa
Explore ancient societies and fossils of dinosaur bones at the Arizona Museum of Natural History. If your child wants to learn more about the history of their region, this museum is just the place. Explore exhibitions on the native cultures of Western North America and Mesoamerican cultures and artifacts. The museum also has an impressive collection of Cenozoic-age fossils, including an 8-foot-wide megalodon jaw.
3. Navajo Interactive Museum — Tuba City
The original inhabitants of Arizona, the Navajo Nation, have a long and storied history as protectors and cultivators of the land. Explore their cultural heritage at the Navajo Interactive Museum and learn about their practices and beliefs from a Navajo escort.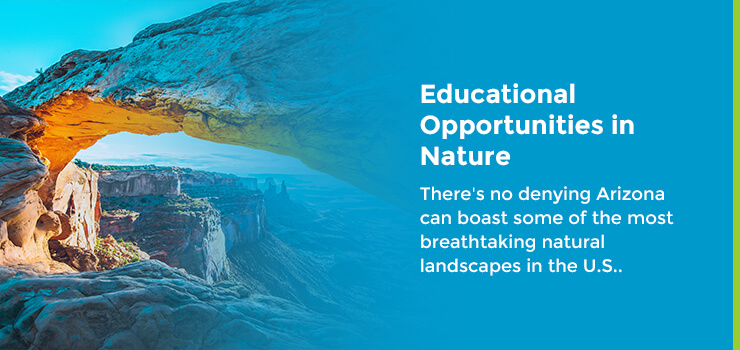 Educational Opportunities in Nature
There's no denying Arizona can boast some of the most breathtaking natural landscapes in the U.S.. Explore these parks and monuments to teach your child about history and nature:
1. Montezuma Castle National Monument — Camp Verde
Nestled in a cliffside, the Montezuma Castle National Monument is a dwelling constructed by the Sinagua people of ancient North America. This monument demonstrates the ingenuity and skilled engineering of this ancient society, and the 20-room apartment is located high in a limestone cliff. You can walk a short trail to reach the monument and see this marvel for yourself.
2. Grand Canyon National Park — Grand Canyon
Perhaps one of the most well-known geological marvels, the Grand Canyon showcases millions of years of sediment layers. See millennia of history before your child's eyes when they peek down into the depths of the canyon. Your family can learn about the geological processes that created the mile-deep canyon with a park ranger from the top or explore the bottom with a raft ride through the Colorado River with a seasoned guide.
3. Meteor Crater — Winslow
When a 150-foot meteor came crashing to earth 50,000 years ago, it created a pit in the earth now known as Meteor Crater. Suppose your child is interested in the marvels of space. In that case, they can also explore the Barringer Space Museum next door, which contains information about meteor impacts all over the world, as well as a real-life meteor fragment you can touch.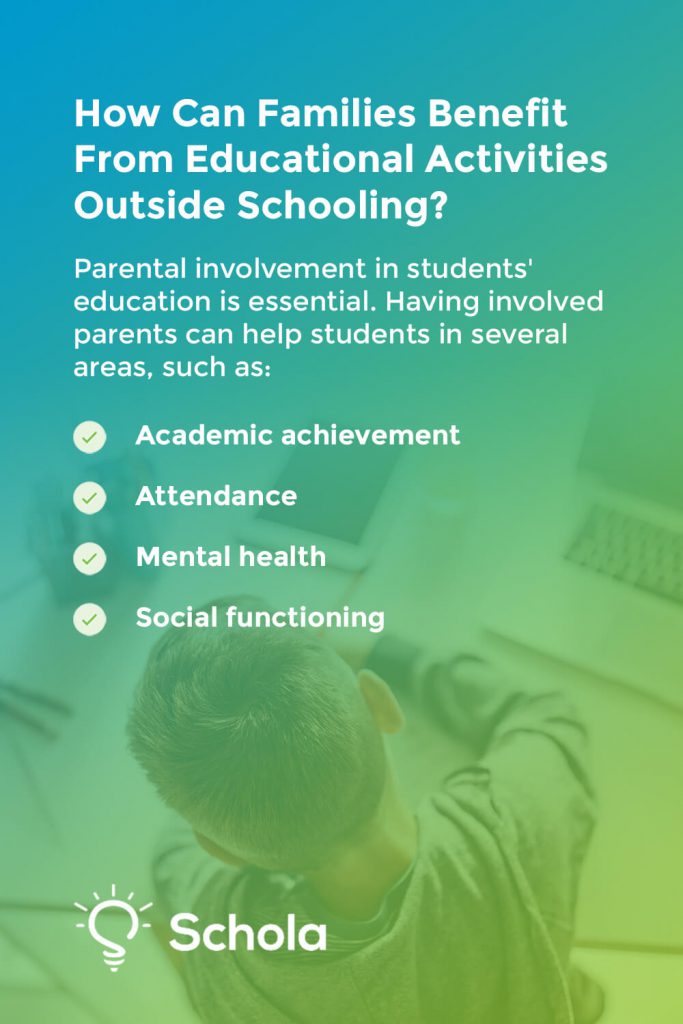 How Can Families Benefit From Educational Activities Outside Schooling?
Parental involvement in students' education is essential. Having involved parents can help students in several areas, such as: Academic achievementAttendanceMental health social functioning but going on educational outings with the family can have greater benefits than academics. These educational opportunities in STEM, arts, history and nature can bring the family together and build cohesion and communication. Doing activities as a family can help children feel supported and connected. Through spending time with their family, children take on the moral values and behaviors they witness. When you spend time together doing activities that bond and build positive memories, they internalize those positive experiences, significantly impacting their behavior. While you might have pressing work concerns or other things on your mind, taking the time to bond with each other as a family is essential—one of the most important benefits of spending time with each other as a family is creating memories. Taking photos and videos of your adventures and activities together will capture those memories and provide positive experiences for your family to look back on.
How to Engage Your Family in Educational Activities
With the wealth of resources available in Arizona, you have plenty of educational opportunities to take advantage of. Check out these tips on how to engage your family in educational activities:
1. Create Everyday Opportunities for Learning
One of the most important aspects of engaging your child — and your whole family — in educational activities is to make them an everyday occurrence. If you drive your kids to school, use that time to help them with spelling or vocabulary. For example, you can use the "I Spy" game to pick out things you see on the drive and have your children spell out the answer once they guess.
Children are naturally curious, so take advantage of that by educating them on things you do every day, like buying coffee or cooking dinner. You can practice basic math calculations by asking your children to guess your change on simple transactions or calculate the tax on your order. You can also teach them through cooking, such as the boiling point of water, the transfer of heat energy and even the states of matter.
2. Use Technology to Your Advantage
If your child plays video games or other games on their phones or tablet devices, you can use this to your advantage. There are many apps and games they can play that have educational value and be fun and engaging. You can encourage them to play these games and even join in as a whole family to create group fun.
3. Infuse Excitement Into Learning
While ensuring that your child stays caught up with their schoolwork is important, it's even more essential that they find enjoyment in learning. Rather than focusing on punishments for bad behavior or grades in school, reward your child for their successes, no matter how small. Making education exciting will do wonders for increasing your child's engagement in learning, both in and out of the classroom.
4. Reward Your Child With Experiences
You might often commend your child for their excellent academic performance or behavior, and you may even buy them a gift as a reward. However, rewarding your child with experiences for their good behavior or hard work in school can help reinforce their learning and create positive experiences for the whole family. A trip to one of these educational activities in your own state can help celebrate your child's achievements while providing a fun excursion for your whole family.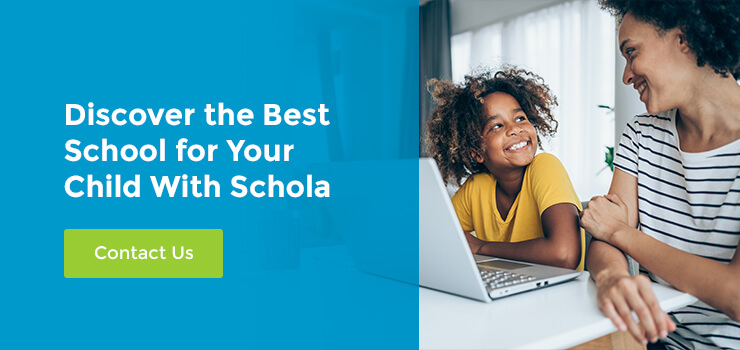 Discover the Best School for Your Child With Schola
While education outside the classroom is essential to help your child grow and develop, the choice of school they attend is just as important. The school your child attends should be a thoughtful, conscious decision. No two schools are the same, just like no two children are the same. Finding a school for your child means considering many factors, such as what type or types of school you're looking at, the special programs available, subject focus and even transportation availability. With Schola's SchoolMatch™Quiz, you can search for the perfect schools in your area from a list of qualifying criteria that are important to your family. If you have any more questions about finding the perfect school for you, contact one of the enrollment advisors at Schola today!