School is an essential part of any child's learning and development. However, parents also play a vital role in their child's education; they provide guidance and serve as examples of the benefits of lifelong learning.
Children look up to the adults in their life, and when parents show interest in their child's education and extracurricular activities,students can get excited about learning new things and reaching their full potential. With so many educational activities in California, it's easy to fit learning opportunities into your weekends, family road trips, or vacations to spend quality time with your student while also encouraging them to continue learning beyond the classroom.
How Can I Expand My Child's Learning Outside of School?
Authentic learning requires more than just memorizing historical dates and solving math equations. Children need to interact with the world around them and learn how to question, analyze, explore and discuss.
Meaningful experiences both inside and outside the classroom help children build knowledge and gain real-life educational experiences that will help them develop a sense of appreciation and awareness beyond what textbooks and exams can teach. Some of these experiences can be:
Traveling to new places🗺️. It gives you the chance to teach your kids about geography, different cultures, and history.
Exploring the outdoors🎒. It gives kids a chance to appreciate the Earth and how it sustains life and provides opportunities to learn about science, wildlife, and ecosystems.
Visiting museums, aquariums and zoos🐛. It allows children to learn through interactive activities and up-close exhibits.
These experiences will fuel your child's motivation to learn by making education feel like adventuring. However, even everyday experiences that seem mundane to you can be great learning opportunities for your children:
Demonstrate practical applications of nutrition, science, and math by cooking a meal together🧑🏿‍🍳🧑🏻‍🍳.
Teach them about the environment when you find plants and bugs in the backyard.
Expand their learning by asking questions about their school day and discussing what they learn each day🏫.
Learning outside of school is all about finding teachable moments wherever you go. Give your family the opportunity to learn together!
Benefits of Educational Activities Outside of School
Educational activities outside of school allow children to experience what they're learning. Rather than just memorizing historical dates, they can visit a historical site and learn about what it felt like to live at a particular time in history. Rather than simply reading about dinosaurs, they can touch a real fossil or stand next to a Triceratops skeleton and feel how small they are in comparison. Educational activities allow children to feel more connected to the world around them and the information they're learning.
Find hands-on experiences related to the subjects your child is learning about in school to inspire them and help them understand the significance of what they know. For example, if they're studying the ocean, take them to an aquarium to see sea creatures. If they're investigating a particular artist, take them to an art museum to see that artist's original work. These real-life experiences will help your child feel excited about learning and remember information better than otherwise.  Additionally, learning outside of the classroom can fuel their passion and help them develop new hobbies or future career aspirations.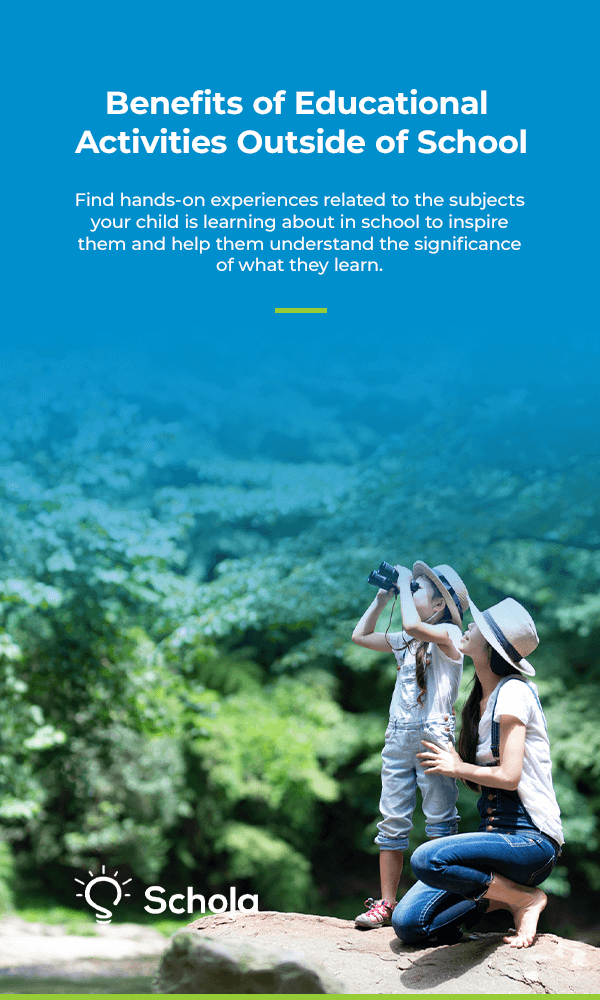 15 Best Educational Activities in California
California is full of fun! If you're looking for an exciting educational opportunity for your family, consider the following activities:
1. Griffith Observatory
The Griffith Observatory offers exhibits, free public telescopes, and live planetarium shows. Give your children a chance to explore the sky and learn about astronomy in this 67,00 square foot observatory full of educational opportunities. Their public telescopes allow visitors to view the sky, sun, stars, the Pacific Ocean, and even the famous Hollywood sign! Various Griffith Observatory exhibits allow people to learn about the sun, moon, Earth, mythology, and the evolution of human observation. For example, the "Water Is Life" daily program, based on fifth-grade science content standards, teaches children where water in California comes from and how Earth's water keeps us alive.
2. Calico Ghost Town
The Calico Ghost Town Regional Park in Yermo, California, is a mining town established in 1881 and abandoned in the 1890s. This abandoned town is California's only well-known abandoned Wild West settlement. It offers a tour around the mining sites and opportunities to practice gold panning. Kids will love this hands-on experience, and they'll even get to see a few original buildings as well as some restructured replicas.
3. Living Desert
The Living Desert Zoo and Gardens in Palm Desert, California, gives kids the chance to learn about animals and the importance of conservation. Its tours, activities, and educational programs allow children to learn about animals and their ecosystems. These engaging experiences inspire guests to understand sustainable ecosystems and do more to care for the natural world.
4. Turtle Bay Exploration Park
The Turtle Bay Exploration Park in Redding, California, includes a wildlife center, museum, botanical garden, playgrounds, and the famous Sundial Bridge. Children can see and learn about over 64 different animal species and even interact with some animals. The museum offers many exhibits that teach children about early California settlers, California's natural resources and the history of the Shasta Dam and Sundial Bridge.
5. Public Libraries
You may forget about the library if you already have many books in your home. However, libraries are great places for kids to explore different books and discover exciting new stories and authors! Take a trip to the library and allow your child to pick out some new books that interest them. From biographies to graphic novels, any book can fuel a child's motivation to read if the topic is interesting and entertaining. Like many of California's public libraries, the Los Angeles Public Library offers educational programs such as classes, storytimes, learning resources and more. A trip to the library is a quick and easy way to expand your child's learning outside of the classroom.
6. Whale-Watching
Give your kids a chance to experience wildlife in its natural habitat! Your family can find whale-watching experiences across the state, from Mendocino to San Diego. A whale-watching adventure gives you and your student opportunities to observe sea creatures such as dolphins, whales and other ocean wildlife. Knowledgeable tour guides educate cruise passengers during the experience, so it's a great opportunity to learn more about the ocean and its inhabitants.
7. Japanese American National Museum
The Japanese American National Museum in Los Angeles features 130 years of Japanese American history. It chronicles the Japanese American experience, starting with the Issei pioneers in the late 1800s, through World War II incarceration and extending to the present day. A visit to the Japanese American National Museum will give your children the opportunity to better understand and appreciate America's cultural diversity.
8. The Natural History Museum of Los Angeles
The Natural History Museum of Los Angeles County allows families and kids to learn about dinosaurs, rare jewels, insects, Hollywood's history, and more. Your children can watch real paleontologists prepare fossils at the Dinosaur Lab and experience nature up-close in the museum's nature gardens. There's always something new to learn and explore in its various special exhibits and programs.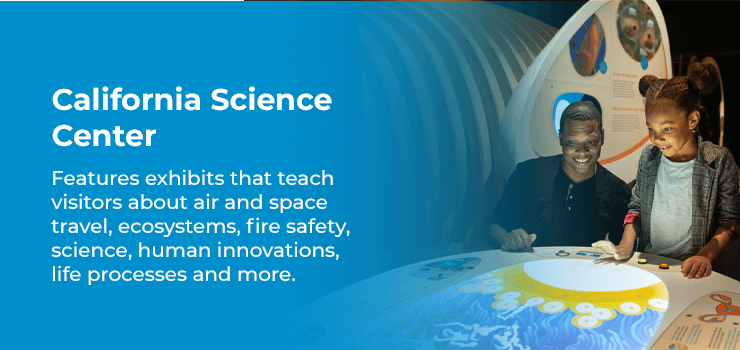 9. California Science Center
The California Science Center in Los Angeles features various permanent and temporary exhibits that teach visitors about air and space travel, ecosystems, fire safety, science, human innovations, life processes and more. The Air and Space exhibit features a collection of hands-on activities and artifacts, so your little ones can explore how people design spacecraft, aircraft and space probes. The Fire! Science & Safety exhibit gives kids a hands-on experience that lets them practice identifying and extinguishing fires.
10. La Brea Tar Pits and Museum
The La Brea Tar Pits park and museum allow visitors to watch the Ice Age come to life. Witness daily discoveries at the live excavation site, explore the iconic Lake Pit and walk through an active dig site. The museum features millions of fossils that paleontologists discovered at the La Brea Tar Pits, and visitors can watch scientists work on recently found fossils.
11. Los Angeles County Museum of Art
The Los Angeles County Museum of Art features various exhibits where children can learn about artists, art forms, and art history. They also offer online art classes for kids, teens and families that cover drawing, printmaking, painting, collage and other art forms so they can continue learning at home.
12. Cooking Classes
Sometimes learning a skill is just as fun as exploring a museum! The Santa Monica Gourmandise School offers cooking classes for kids and teens to learn how to cook like a professional. Kids and teens can learn how to bake sweets, make pasta, create delicious sushi dishes and more. The Culinary Institute of America offers family-friendly cooking classes so you can bond with your child while you both learn a new skill.
13. Charles M. Schulz Museum
Children can learn about the Peanuts comic strip creator at the Charles M. Schulz Museum in Santa Rosa, California. This museum features the artist's original art, comic strips, books, artifacts and more. It also offers online and in-person classes where children and families can learn various art techniques such as hatching, shading, watercolor painting, and more.
14. Farm Tours
Take a fun farm tour to teach your children about food production! The Rosa Brothers Milk Company in Tulare, California, offers tours that allow visitors to explore the dairy farm and barnyard. Kids and families learn about how the farm operates and how milk is produced. Visitors can even practice the milking process with a simulated cow! Visit the creamery to observe how the company bottles milk and makes ice cream, then end the day with some delicious ice cream. Yum!
15. Monterey Bay Aquarium
Give your children an up-close look at sea life with a visit to the Monterey Bay Aquarium. Your family can learn about animals from different ocean habitats, from the kelp forests' sea otters to creatures from the deep sea. Kids will love seeing the octopi, sharks and penguins and visiting the birds in the aviary. The fun can continue at home with the aquarium's virtual learning resources, like a free deep sea coding course for grades six through eight.
How to Partake in Educational Activities
Partaking in family educational activities can seem challenging if you have a busy schedule. However, you can work these learning opportunities into your daily, weekend, or vacation plans. Saturday mornings at the library, afternoons at the aquarium, or evening family cooking classes are great educational activities. You can also fit some kids' educational activities into a family road trip or vacation. For example, take a weekend road trip to Los Angeles to visit the Natural History Museum and extend the fun with a visit to the La Brea Tar Pits. Many destinations in California are full of fun family educational activities!
Find the Best School for Your Child
As a parent, you can always stay involved in your child's education and expand their learning outside of the classroom. Take advantage of everyday learning opportunities and plan educational activities to make learning fun for your child.
It's important to find the ideal school for your child to ensure they receive the best learning opportunities inside the classroom as well. Don't settle for the closest school — take ScholaMatch™ and connect with the ideal school for your child based on their learning style, interests, unique needs, and more.
Schola allows you to learn more about schools in your area, connect directly with them and save your favorite schools. Give your children the best education to help them become lifelong learners in and out of the classroom.