All year long, Schola strives towards one main mission: to improve education outcomes by helping students find the ideal educational setting. Week after week, we had the opportunity to help families across the country find new schools for their children as we also worked alongside schools all over the nation. As we visited schools in California, New York, and everywhere in between, there were so many amazing schools where the community truly felt like a family.
Spreading Schola's Holiday Cheer
So as we approached the holiday season, we wanted to do something special for a school whose dedication to their students and commitment to put children first was evident the minute anyone stepped into their halls. Children First Leadership Academy is a K-8 school in Phoenix, AZ on a mission to prepare their students for current and future success by providing them the best education and resources in a safe, stable, and empowering environment. Additionally, CFLA partners with Phoenix Children's Hospital to provide free medical services to students and their families from on-site doctors. CFLA makes sure no student goes hungry by providing free breakfast and lunch each school day and a meal basket over the weekends.
So to spread a little extra holiday cheer and celebrate a wonderful school community, we put together our very first ScholaCares event. ScholaCares is our School Community Outreach, where our Schola team serves deserving school communities in special ways. Our plan for ScholaCares 2021 was to provide every single student at CFLA a backpack with school supplies and a special gift to unwrap.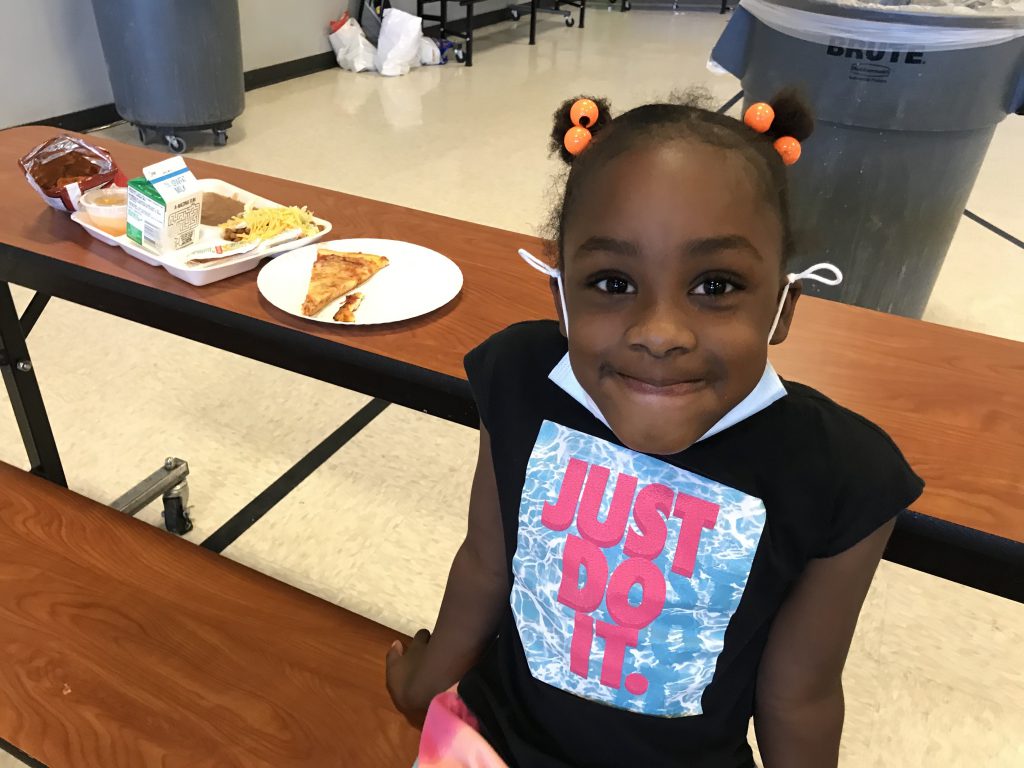 ScholaCares In The Making
Weeks leading up to ScholaCares, our team planned, prepped, packed, and wrapped 125 gifts and backpacks for the students. Since no party is complete without pizza, we partnered with Canyon Pizza Company at Grand Canyon University who generously donated pizzas for the entire student body and faculty.
On the day of the event, members of our Schola team worked to transform the auditorium into a holiday celebration. As we welcomed the kids, faces started lighting up as they saw the secret surprise. From the smallest kindergartener to "too cool" tweens and every student in between, all students wore a huge smile on their faces as they filed into the room. As the students enjoyed some pizza, the auditorium echoed with chatter, music, and laughter as our team got to know the students. Our Schola team was immediately welcomed into their school community as we shared a meal and a laugh with the students and staff.
We personally handed each student their new backpack and special gift, so we could witness the joy on their faces as they unwrapped their new lego sets, dolls, games, and more. To make things even more exciting, each student received a raffle ticket and eight lucky students won the grand prizes of a scooter, STEM set, or Kindle Fire Tablet. We concluded the celebration by singing along and dancing to Christmas carols with the children, as they all excitedly carried their new gifts back to class.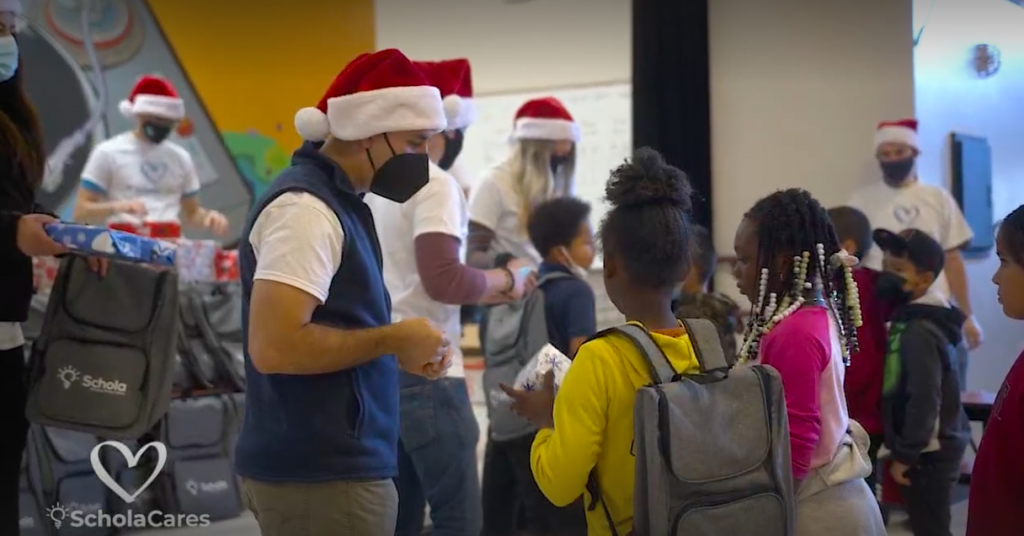 Why We Do It
"Learning is a fun and exciting experience, and it's important that students feel that way and can remember that. That's a big reason why we wanted to hold ScholaCares, to remind students that school is a place of celebration." -Jaime Martinez
Working alongside schools and their families is the best part of what we do here at Schola. We strive towards each student being able to receive the education they deserve at the school where they belong. ScholaCares reminds us that school is not just about academics; It's also about how learning is a fun and exciting experience to share with others. The most important part of school is the caring and supportive community you create.