There's more to it than sitting behind a desk and taking notes on textbooks when it comes to successful education. While in-school learning lays a strong foundation for our child's education, it's meant to be supplemented with real-world experiences. Engaging a child's senses, curiosity, and desire to explore the world around them increases their ability to become lifelong learners!
But How Can I Expand My Child's Learning Outside of School?
One fun way to expand your child's educational experience is to organize an educational day trip. A trip can be as simple as taking them to a nearby park or as complex as arranging a day trip to a historic location. So long as it provides your child with a chance for hands-on, real-world learning that isn't in a classroom, any trip can become a fun educational experience.
What are the Benefits of Educational Activities Outside of School?
One study from the U.S. Travel Association showed that students who took academic field trips during their school years had 59% higher grades, 95% higher rates of graduation from high school, and 63% higher graduation rates from college. 89% of these students later said these field trips made them enjoy their learning experiences more and grew their interest in their education in and out of school. Do you remember your first field trip?
Educational field trips can help nurture a child's creativity. Seeing ideas in action allows the child to consider different perspectives and encourages them to imagine their own concepts. Learning through field trips can also help your child build real-world skills, such as navigation, social interaction, and public etiquette. While the classroom is a good place for your child to socialize with their peers, public spaces help put those skills into action and allow them to adjust to public spaces and larger crowds of people.
What Are The Best Educational Activities in New York?
New York is a large, bustling state filled with potential field trip options. While it's challenging to highlight every exciting spot on one list, we'll share fantastic options for first-time field trip planners. Let's go!
1. Statue of Liberty and Ellis Island
The Statue of Liberty is one of the most iconic landmarks in New York City, if not the entire U.S. You can go to the top of the statue for a breathtaking view — keep in mind that children must be at least four feet tall to do so. You can also visit the immigration museum on Ellis Island, which is considered one of the best places for educating and entertaining children in the city. In addition, the museum can help provide insight into the history of those who traveled to the U.S. searching for a better
There's also a new interactive museum by the statue, so your children can enjoy a hands-on learning experience too!
2. Intrepid Sea, Air and Space Museum
The Intrepid Sea, Air, and Space Museum details the history of American aviation and sea exploration. This museum includes plane, submarine, and space shuttle exhibits, including the aircraft carrier Intrepid — the museum's namesake. The exhibits rotate throughout the year, meaning your children will have constantly changing experiences.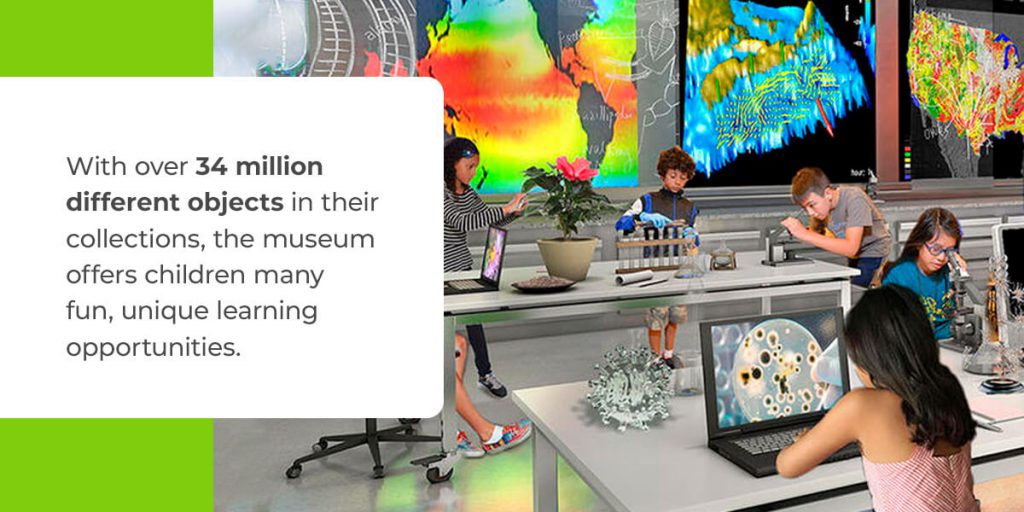 3. American Museum of Natural History
The American Museum of Natural History is a popular field trip location for children in New York. With over 34 million different objects in its collections, the museum offers children many fun, unique learning opportunities. For example, the Milstein Family Hall of Ocean Life and the David H. Koch Dinosaur Wing are some of the most popular exhibits. The museum even offers specialized tours for visiting students and other opportunities for class trip planning.
4. Spyscape
What child doesn't love the idea of being a spy? Spyscape presents spy-themed challenges, such as puzzles and laser gauntlets that allow your children to test their problem-solving skills, agility, and more. Once they've completed their puzzles, they will be assigned a spy rank. How fun!
5. New York Public Library
A library is an ideal place for a full day of learning. With an entrance flanked by marble lions Patience and Fortitude, the New York Public Library provides a wide variety of books on all subjects. Even the pickiest visitors will likely find a book that suits them, whether they are children, teens, or adults. Children even have a separate section of the library to see the real-world stuffed animals that inspired the iconic children's character Winnie the Pooh.
6. Central Park
Central Park is one of the most frequently visited parks in the U.S. — the perfect place to bring your children for the day! It features plenty of wide-open spaces and fresh air. It hosts a variety of attractions, including the merry-go-round, the newly renovated Belvedere Castle, and a host of roadside stalls, shops, and shows for all ages.
7. Children's Museum of the Arts
Located near Central Park, this museum is specially designed to entertain and engage children. It features a wide variety of interactive exhibits, including arts and crafts, storytime, dancing, and more. If you want to take your child somewhere where they can let loose and be creative, this is the ideal place.
8. Empire State Building
Once the tallest building in the world, the Empire State Building still stands as a testament to American architecture. You can take your child to the top for a breathtaking view, then explore the exhibits in the building that discuss the building's history and cultural significance. Just don't look down if you're scared of heights!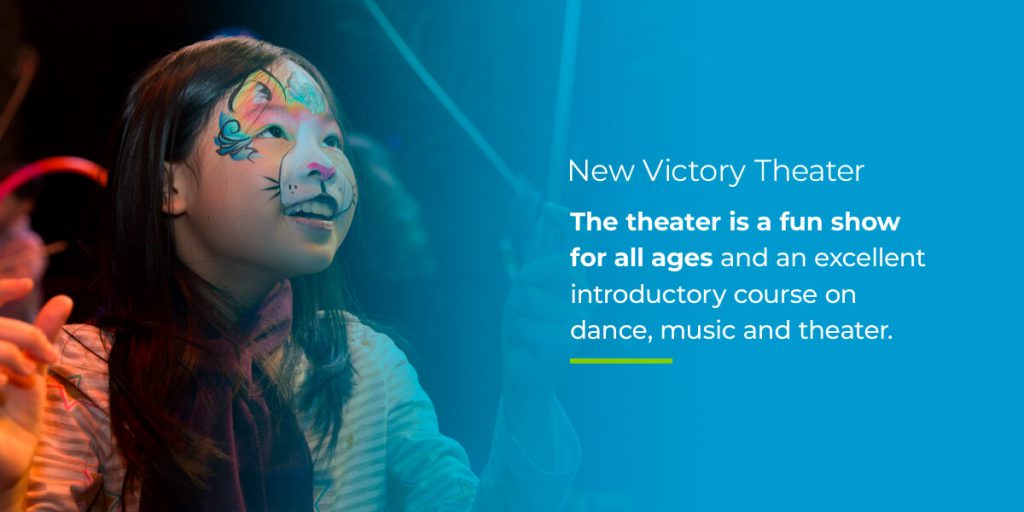 9. New Victory Theater
Similar to the Children's Museum, the New Victory Theater focuses on entertaining children through theater. The theater is a fun show for all ages and an excellent introductory course on dance, music, and theater. They also provide autism-friendly shows with warnings before loud noises. Amazing!
10. DiMenna Children's History Museum
This museum teaches city history with exhibits specially designed for younger children to understand. Your child can learn about important historical figures and events in New York's past and even interact with re-enactors who help bring those moments to life.
11. New York Botanical Garden
If you want to teach your children more about plants and nature, the New York Botanical Garden is a must-see attraction. It features the extraordinary Everett Children's Adventure Garden, with climbing boulders and mazes for children to explore. If you're arranging the trip in the winter, that's not a problem — the garden hosts an annual Holiday Train Show.
Fun for the Whole Family!
Educational field trips aren't just beneficial for learning children. They present a fun opportunity for the entire family to learn and bond with each other over a fun shared experience. Accompanying your child on an educational field trip can provide you with an excellent opportunity to discover something new. Maybe you never knew how giant a dinosaur skeleton was or wanted to see a specific type of bird in its natural habitat!
If you accompany your child on a fun field day, you'll be able to guide them and engage with the topics that interest them the most. While listening to your child talk about the exciting things they learned at school is good, witnessing their learning firsthand creates a better picture. Making fun, exciting memories with your child can help to deepen your bond — an ideal goal for any parent.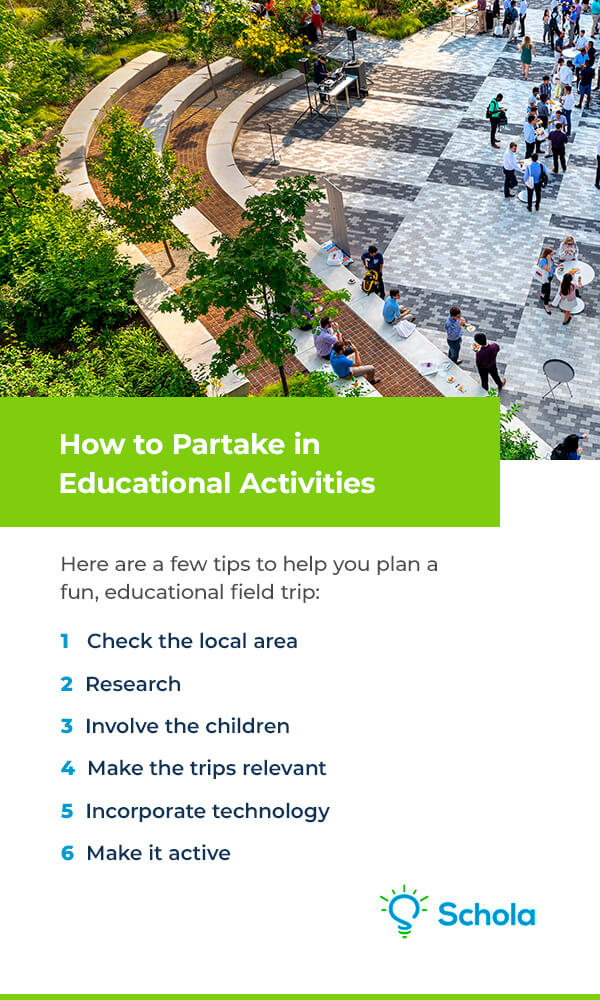 How Schola Can Help
A child's education paves the way for their development. To help your child truly flourish, you should encourage them to engage with the world around them. Arranging educational day trips related to the topics your child is currently studying will help them dive deeper into learning.
No matter how fun or informative the day trips are, they work best when paired with their ideal school. Your child's school should provide them with a place to learn, grow and thrive while nurturing their preferred learning style. But finding a school that fits your child's personality and learning style can be a challenge, especially if you don't know where to start.
If you're struggling to find the ideal school for your child, Schola is here for you! Schola helps parents find the perfect school for their children, and schools find students eager to learn. We pair students with schools based on their needs, interests, and preferred learning styles, ensuring they'll go to the place that better helps them thrive.
Ready to get started with Schola? Request a demo and find the best school for your student today!